Digging for Diamonds: A Day at Herkimer Diamond Mines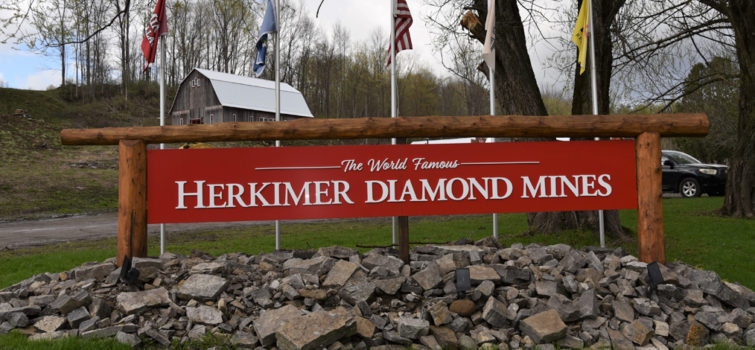 The Herkimer Diamond Mines welcomes over 150,000 visitors of all ages each year, including vacationing families, hobbyists, and rock hounds alike. An internationally recognized tourist destination for 40 years, it's the only place in the world you can prospect for your very own world-famous Herkimer Diamonds in three above ground surface mines. We've put together everything you need to know to ensure a great day trip to the world-famous Herkimer Diamond Mines.
What is a Herkimer Diamond?
The formation of "Herkimer Diamonds" began in Herkimer County nearly 500 million years ago when the limy sediments that accumulated in the salty waters of an ancient sea were gradually compacted under the weight of thousands of feet of sediment and rock. Water seeped through the pores of the rock, creating eroded spaces. Millions of years later, water rich with silica filled the spaces and then eventually drained away, leaving behind silica deposits. Over time, cycles of precipitation, heat, and pressure eventually formed the beautiful double-terminated quartz crystals we call Herkimer Diamonds. Herkimer County is one of the few known places in the world where these crystals are easily found, and only crystals mined in this area can rightfully be called "Herkimers."
Although widely referred to as diamonds (it's easy to see why), Herkimer Diamonds are actually quartz crystals, not diamonds. These quartz crystals are easily recognizable because they formed naturally with 18 facets and are double-terminated (have points at both ends). They are most commonly short and stubby (less than one-inch long) and have a hardness of 7.5 on the MOH scale of hardness, with 10 being the hardest (real diamonds). These gems are usually exceptionally clear and exhibit a brilliant sparkle, but might also be smoky, or contain rainbow inclusions, air bubbles, or black carbon deposits.
Herkimer Diamond Uses and Value
These magnificent gems have long been prized around the world for their use in jewelry and have been featured for sale on QVC in the United States and Japan. They were recently made even more famous when Meghan Markle, Duchess of Sussex, wore a pair of Herkimer Diamond stud earrings. During the Season 16 premiere of "Keeping up with the Kardashians," Kanye West gave Kim Kardashian a Herkimer Diamond as a means of boosting good feelings.
In addition to their use as jewelry, Herkimer Diamonds are also known for being metaphysically beneficial as conduits of spirituality, memory, love, energy, and healing. It's believed they have the power to relieve pain, have a purifying effect, and an ability to stimulate the immune system. Dubbed "dream rocks," some claim that sleeping with one in your pillow will enhance your dreams.
The price of lose Herkimer Diamonds and jewelry pieces containing them isn't as much as a real diamonds, but it is substantially more than other semi-precious gemstones. Price is generally impacted by size and purity.   
Getting to the Mines
Some of the best places to find Herkimer Diamonds are located along New York State Routes 28 and 29. Since all land in New York either belongs to the government (collecting minerals from government land is illegal) or is private property, the world-famous Herkimer Diamond Mines is the best place for visitors to prospect for Herkimer Diamonds. Herkimer Diamond Mines operates seasonally from April through the end of October, and is located 8-minutes from Grand Colonial Bed and Breakfast.
To get there, exit the Grand Colonial Bed and Breakfast driveway and turn left onto West German Street (toward Main Street). Drive to the end of German Street and turn left at the traffic light onto Middleville Road/Southern Adirondack Trail/NY-28. Continue straight on NY-28 for about 6.7 miles. Herkimer Diamond Mines is on the left side of the road.
There is plenty of free parking in the open parking lot at Herkimer Diamond Mines.
Admission
If you wish to prospect for Herkimer Diamonds in the open mines, admission for the 2019 season is $14.00 per person for ages 13 and up; $12.00 per person for ages 5 to 12; and free for children 4 years and under. Admission to the buildings in Minors' Village is free for all and does not require entry into the mines.
What to Wear and What to Bring
Weather in Central New York can be unpredictable, so it's best to dress according to the weather on the day you plan to visit. On cooler days we recommend dressing in layers. On sunny summer days it can get quite warm, and if you're going to spend a few hours prospecting you might be exposed to full sun. Sunscreen, hats, sunglasses, and bottled water are a good idea. You'll want to wear closed toe shoes or sneakers, for safety and comfort, since the ground within the mines is comprised of rock and the surface is uneven in many areas. If you plan to hammer rocks, we recommend wearing rugged material pants (like jeans) and long sleeves, a pair of safety goggles to protect your eyes, and gloves to protect your hands. Small pieces of rock will fly while you're hammering and could easily cut or bruise your skin.
Basic admission to the mines includes a plastic bag (to secure your Herkimer Diamonds) and use of a rock hammer. You can bring wedges and other tools such as a shovel or pick if you plan to get more involved in prospecting. We recommend bringing a small plastic container with securable lid for the safe keeping of smaller Herkimer Diamonds and a canvas or nylon tote bag for larger rocks you might want to take with you but don't want to crack open on site.
Prospecting
There are three mines open to the general public. These mines are separated from an area designated for commercial mining. Don't be intimidated by the word "mine" – all three mines are wide-open, above-ground, "surface mines," so you won't have to worry about navigating tight or dark spaces or descending below the ground. After parking your vehicle in the open lot, gather your equipment, walk to the top of the stairs and enter "Minors' Village." Start at the building marked "Town Hall." This is where you'll pay your daily admission and be given a rock hammer to use in the mines. From there, exit Minors' Village and walk through the wooden arch welcoming you to the world-famous Herkimer Diamond Mines. After a short walk, you'll arrive at mines 1, 2, and 3 on your left.
"Scavenger Prospecting" is the easiest and safest way to find Herkimer Diamonds (especially for kids). You'll be amazed at how many Herkimer Diamonds you can find just by looking around the piles of surface rocks until something sparkly catches your eye, or by searching the ground for loose crystals (they tend to be small, but high quality). If you brought a small gardening shovel, you might also have luck at finding loose crystals on or just beneath the surface of any exposed soil.
You might also try your luck using the "Find and Break" method (this is where your supplied hammer comes in handy). The key to finding crystals within exposed Dolostone, is to select more porous rocks to break open. The more porous the rock, the more likely you are to find a Herkimer Diamond in a crack or crevice once you break it open. You should carefully examine each rock before breaking it open, to be sure you won't damage any visible crystals with your hammer. You might choose to collect and leave intact whole rock specimens with visible crystals, or even save them for later when you have access to more precise extraction tools (this is why we recommend bringing a canvas or nylon tote bag). Pieces of Dolostone with well-formed visible Herkimer Diamonds can be just as valuable as loose crystals. One last tip – Don't get discouraged if you break open several rocks without finding a crystal!
There are other prospecting methods for the better-equipped and more serious rock hounds, but that's beyond what we will cover here. Before you leave the mines, be sure to check out the natural waterfall located between mines 2 and 3. The mines close at 5 p.m., so save some time to visit the Trading Post located in Minors' Village. When you're done prospecting, return your hammer at the Town Hall building (the same place where you picked it up). And remember, you keep what you find, so everything you take out of the mine is yours to take home.
Minors' Village
Even if you don't care to prospect for your own Herkimer Diamonds, or just don't have time, Herkimer Diamond Mines is still worth a short visit. Minors' Village encompasses a Town Hall (prospector registration, wrist-banding, and mining information), Canteen Café (serving hamburgers, hotdogs, chicken, fries, salads and sundaes), Prospector Pete's Panning Place (sluice mining -panning for gemstones and fossils), Trading Post (retail store where you can buy all sorts of gems, jewelry, and gifts), Build and Share Activity Center (where you can create custom jewelry with your Herkimer Diamonds), and Rock Hound Academy Learning Center (a edutainment school house-style building housing rock specimens and seating for large groups).
Dining Options
There are three dining options available at Herkimer Diamond Mines. "Prospectors' Pavilion" serves breakfast, snacks, and ice cream. Prospectors' Pavilion is open at varied times and days during the regular season from April through the end of October. "The Canteen" serves hamburgers, hotdogs, chicken, fries, salads, and sundaes. The Canteen is open from 10:30 a.m. to 4:30 p.m., seven days a week, from April through the end of October. "Minors' Table" is a pizzeria and chophouse focused on farm to table and mine to table dining. Herkimer Diamonds are used to filter and distill a variety of spirits and specialty drinks. Located across the parking lot from Minors' Village, Minors' Table is open for lunch and dinner Wednesday through Sunday.