Getting Cozy: A Romantic Weekend in Central New York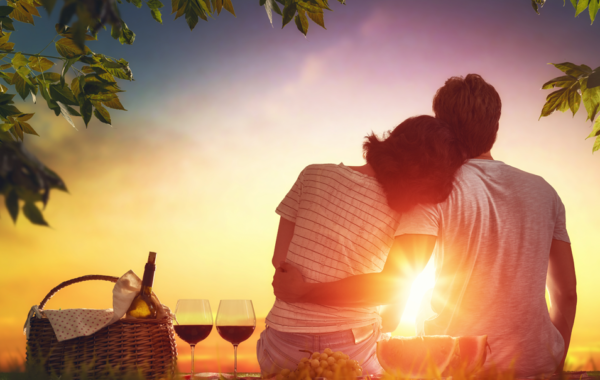 Savor some one-on-one time with your special someone on your next stay in the Herkimer area. Whether you're visiting from out of town, or a local looking to celebrate an engagement, anniversary, or other special occasion, Central New York was made for making memories. We've put together our recommendations for lodging, dining, and experiences that offer the perfect backdrop for making the most of your romantic weekend.
Where to Stay
Grand Colonial Bed and Breakfast
We invite you and your special someone to our comfortably elegant home where rich history, modern amenities, and exceptional hospitality combine to give our guests a uniquely local experience. For couples, we recommend booking a stay in our Kingsland Room. Kingsland Room draws guests in with elements of intrigue and romance. Soft lighting, elegant waves of regal blue drapery, tranquil grays and overt gold tones deliver an enchanting combination of depth and intimacy. Kingsland is our most spacious and immersive room. It offers a king size bed wrapped in rich bed linens, walk-in-closet, and en suite bathroom with indulgent jet tub/ shower combination. We're prohibited from selling or serving alcoholic beverages, but it's our pleasure to chill any alcoholic beverage you bring, and to provide crystal or glass drinkware, bottle openers, and an ice bucket at no charge.
Where to Dine
Central New York offers a wide variety of dining experiences, but "Tailor and the Cook," located at 94 Genesee Street, in Utica, is our pick for an amazing meal in a unique and romantic atmosphere. Perfect for your romantic weekend! Tailor and the Cook was one of only five New York restaurants named in Open Table's annual list of the 100 Most Romantic Restaurants in America for 2019. Their menu features locally sourced foods, seasonal dishes that highlight regionally-farmed ingredients and an extensive selection of New York state wines, as well as local, craft beer and spirits. The restaurant itself has as much romantic allure as its food. Tailor and the Cook is located in the historically significant Bagg's Square, where the Utica Harbor and Barge Canal intersect. It's housed in a building as old as the City of Utica, and was renovated using locally reclaimed materials. As an intimate restaurant of only 40 seats, getting a table is sometimes a challenge. We strongly recommend making reservations well in advance of your planned occasion.
Ocean Blue Restaurant & Oyster Bar
With a panoramic view of the Utica skyline, great food, and warm atmosphere, Ocean Blue, located at 118 Columbia Street, Utica, is another recommended option for a romantic dinner. If your date loves seafood, and you don't, then this the place for you. Although the menu is focused on seafood, Ocean Blue serves everything from steak and chicken to vegetarian dishes and incredible desserts. The restaurant is located on the rooftop level of the historic Landmarc Building, and is accessed from the building lobby using an elevator. We love the rooftop deck here, and the views are certainly something to appreciate. The interior of the restaurant boasts a mix of elegant black and white décor, a large copper bar, and floor to ceiling windows that allow you to take in the view.
Things to Do
Take a journey through history on the calm waters of the Erie Canal while enjoying the spectacular scenery of New York's beautiful Mohawk Valley on Erie Canal Cruises. Join Captain Jerry and his crew on an incredibly fun, narrated, 90-minute sightseeing cruise, and learn a bit of history about the Erie Canal along the way. The thrill of the voyage is being raised and lowered over 20 feet in Lock 18 at Jacksonburg, one of the last remaining locks operating with original 100+ year old equipment. Evening and specialty cruises are also offered. Daily cruises depart from the Gems Along the Mohawk complex, 800 Mohawk Street, Herkimer. This attraction is a 4-minute drive from Grand Colonial Bed and Breakfast. Erie Canal Cruises operates seasonally from May through October.
Take a scenic train ride on the Adirondack Scenic Railroad, departing from the Utica Train Station, located at 321 Main Street, Utica. Adirondack Scenic Railroad offers a variety of specialized train rides throughout the year including a Beer and Wine Train, Fall Foliage Train, Polar Express, and Adirondack Christmas Train.
There's definitely something to be said about the romance of train stations. Even if you don't take a scenic train ride, it's worth sharing a conversation and a kiss inside the Utica Train Station. The historic Utica station was opened for the New York Central Railroad on May 24, 1914, and became a union station in late 1915. Three stories high, the station was built in Italianate style. Its exterior features rusticated granite and tall arched windows on the first story with buff brick above, and a large clock flanked by eagle sculptures above the main entrance. The interior is even more impressive than the exterior. The 15,000-square-foot waiting room rises to a coffered, barrel-vaulted ceiling thirty-five feet at its peak. The vault is supported by 34 Botticino-faced columns. The floors are made of sparkling terrazzo, and the interior walls and ticket windows are made of Grey Vermont and Knoxville marble. Its eight large wooden benches are heated with steam pipes and vents, and make for a great spot to sit and spend some time together.
Bring a date to see Utica Zoo's over 200 individual animals including African Lions, Red Pandas, and Bactrian Camels. Located at 1 Zoo Way, Utica, the Utica Zoo is open year-round (except Thanksgiving and Christmas) and offers a variety of special events, programs and activities. During the winter months you can even snowshoe at the zoo. Guests can bring their own snowshoes or rent them onsite. The last snowshoe rental occurs at 3:00 p.m. With wooded trails and amazing scenery, snowshoeing lets you see the zoo in a whole new way.
Take a hike and enjoy a local treasure- the waterfall at Foxes Falls in Ilion. Situated on the outskirts of town, the waterfall and hiking trail is located a few miles from Thruway Exit 30. The hike up to the falls is about one mile, on a gradual incline. The trail is made up of intervals of gravel, dirt, pavement, and dried-up creek-bed. If you visit during spring, or after it rains, you'll likely encounter an active creek bed. We recommend wearing appropriate footwear.
Take a Drive
Forget the GPS. Take an unscripted drive through the Mohawk Valley and enjoy the history, architecture, and natural beauty of the small towns and villages along the way. Fall is one of the most scenic times of the year and perfect for your romantic weekend. Central New York is home to some of the most vivid autumns in the world, with peak season beginning in September.