Experience Maple Syrup "Sugaring Off Sundays" at The Farmers' Museum!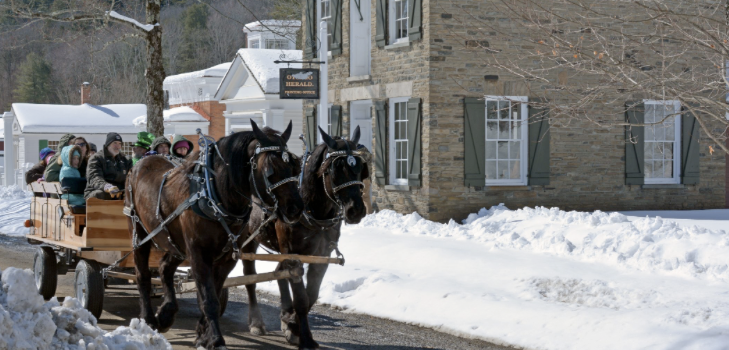 March is Maple Syrup Month
Everything is better with maple syrup and that's exactly what you'll hear if you ask Central New Yorkers. And if you've enjoyed one of our homemade breakfasts served with pure NY Maple Syrup from the Kraeger Family Farm, you know it's true!
March is finally here and the snow has started to melt. Tree tapping is in full swing, so it's officially maple syrup season in Central New York. If you're interested in experiencing the deliciousness of pure maple syrup, then join friends and family on Sundays this March for another season of Sugaring Off Sundays at the Farmers' Museum in Cooperstown!
About Sugaring Off Sundays
This weekly event begins March 1st and continues each Sunday during the month, offering contemporary and historic maple sugaring demonstrations, fun activities for your kids, and much more. A full pancake breakfast including scrambled eggs, sausage, and home fries is served from 8:30am to 1:00pm with all other activities scheduled from 9:00am to 2:00pm.
There is "sweet" fun planned for everyone each Sunday. You can taste hot maple syrup poured over snow, known as jack wax. Children learn how to tap maple trees. You also don't want to miss talented craftspeople at work in the Blacksmith Shop. Stay warm as you ride the Empire State Carousel inside its heated enclosure. Wagon rides around the historic village are offered from 10:30am to 1:30pm (weather permitting). At the Children's Barnyard, admire Heritage breeds of chickens, turkeys, and sheep.
The Otsego County Maple Producers will be on hand to talk about maple sugaring and offer local maple products for sale. Be sure to try some of the local maple syrup that is served at the Sugaring Off Sundays pancake breakfast.
Admission
$12 (adults 13+); $10 (museum members); $7 (children 7-12); $6 (museum members 7-12); $4 (children 3-6); $3 (museum members 3-6); and free for children 2 and under. Admission includes full breakfast. No reservations are required. Museum shops will be open.