Return of the Snack Barn!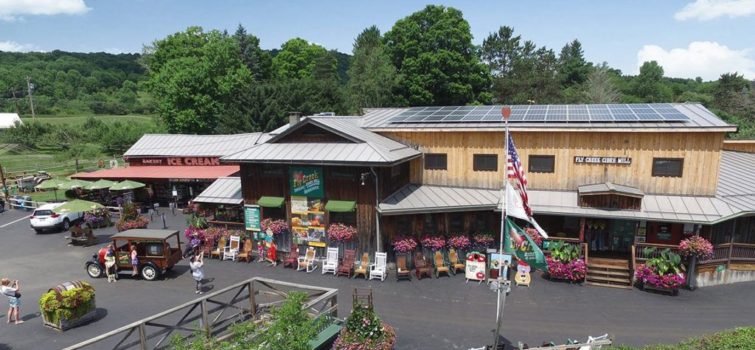 The Fly Creek Cider Mill's Snack Barn is back this Saturday, June 13th.  The Fly Creek Cider Mill & Orchard's food service is adjacent to the Mill in a restored barn. The menu includes fresh baked goods, soups, sandwiches, beverages, and a full line of ice cream treats.
The pulled pork BBQ and soups or chili in a bread bowl are favorites to be enjoyed with a cider float or ice-cold cider slush.  Most of the baking is done on-premise, including all the Mill's pies, dumplings, and cookies. You can tell when the ovens are in action from the wonderful aromas in the air.  Freshly brewed coffee or hot spiced cider is a perfect accompaniment for a Cider Mill Doughnut or a colossal cinnamon bun.
While the kids will love the cider slushies and floats, adults can enjoy a glass of their wines, draft hard ciders, or a cooling wine or hard cider slushie! Local draft beer by the glass is also on tap!
Plenty of outside seating is available with additional tables on the boardwalk overlooking the Millpond. A small inside seating counter is available for inclement weather.
For more information and their menu, please CLICK HERE. 
Hours are 9-6 daily.
Fly Creek Cider Mill, 288 Goose Street, Fly Creek, NY