2020 Hall of Fame Induction Weekend Canceled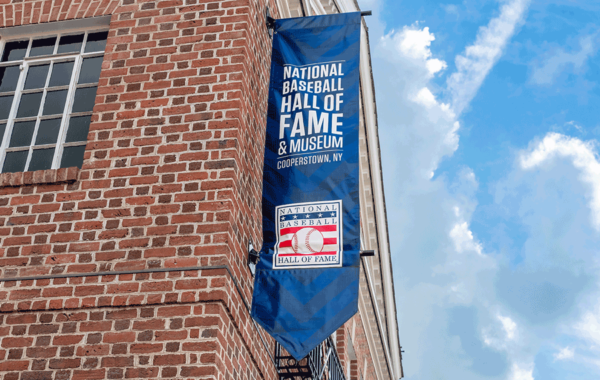 We are saddened to announce that the 2020 National Baseball Hall of Fame Induction Weekend events have been canceled as a result of the COVID-19 pandemic.  No other event better represents the spirit of Cooperstown or our timeless love for the game of baseball, and we're certainly going to miss the memories we would have made this summer.
The Class of 2020 – consisting of Derek Jeter, Marvin Miller, Ted Simmons and Larry Walker – will now be inducted on Sunday, July 25, 2021, in Cooperstown, alongside any new members elected as part of the Hall of Fame Class of 2021. The Awards Presentation on Saturday, July 24, 2021 will recognize the Hall of Fame's 2020 and 2021 Award Winners, including 2020 J.G. Taylor Spink Award winner Nick Cafardo, 2020 Ford C. Frick Award winner Hawk Harrelson and the winner of the 2020 Buck O'Neil Lifetime Achievement Award, David Montgomery.
Next summer's Induction Ceremony will be the first since 1949 to combine multiple classes of electees. The first four Classes of Hall of Fame members, elected from 1936-39, were all enshrined on June 12, 1939, the day of the Museum's formal opening. The Classes of 1946 and 1947 were inducted together in 1947, and the Classes of 1948 and 1949 were inducted together in 1949.
The National Baseball Hall of Fame and Museum remains closed to the public for now. Updated information regarding this closure is being provided every Sunday at noon ET at baseballhall.org and via the Hall of Fame's social media channels.
For our guests wishing to attend the July 2021 Induction Weekend ceremonies, those dates will become bookable on grand-colonial.com during the month of July 2020.  We know our rooms will sell out even faster than in years past, so if you'd like to book your stay sooner than July 2020 please reach out to us by phone at 315-982-5004 or by email at [email protected].