Herkimer Diamond Mines – 2022 All You Need to Know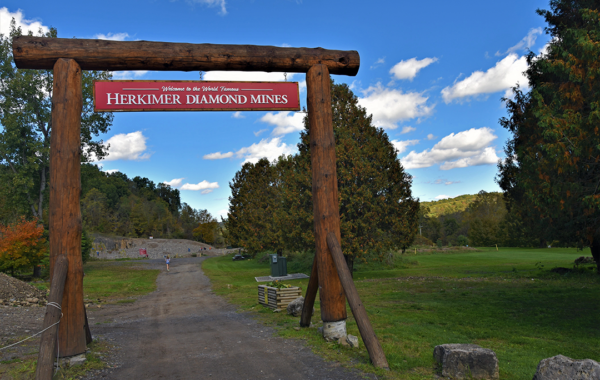 Herkimer Diamond Mines – 2022 All You Need to Know
2022 is the year we plan to explore more. The year we get excited about experiencing new places, throwing a pack on our back, and spending as much time as we can in the great outdoors. For us in Central New York, it all starts with welcoming the spring season; and the re-opening of The Herkimer Diamond Mines on April 15, 2022.
We know collecting memorable experiences is a top priority to those visiting the Herkimer Diamond Mines in 2022, so we tailored this year's guide toward getting the most out of your day and your stay in the Herkimer area.  Last year we offered our guests at Grand Colonial Bed and Breakfast a free admission to the Herkimer Diamond Mines during their stay.  So many travelers got so much value out of the promotion that we're doing it again this year!  We hope you're enticed by all the fresh experiences this mining season has to offer and find our 2022 guide helpful in planning your next adventure.
First, A Little Background
You might be asking, "What are Herkimer Diamonds?"  It's true, Herkimer Diamonds are not officially diamonds, but are actually double-terminated quartz crystals found in Herkimer County, New York. They have an organic, uncut, and unpolished look, and a beautiful double-terminated diamond-like geometrical shape, thus the name "Herkimer Diamond."  These magnificent works of nature are close to 500 million years old and formed primarily within dolomite limestone rock. You can read about Herkimer Diamonds and learn about their geology and history in Uncovering New York.
Next, you might be wondering a little about the Herkimer Diamond Mines itself.  The Herkimer Diamond Mines 40-year-old family business is owned by Dr. Renee Scialdo Shavat.  Dr. Scialdo Shavat often appears on the Home Shopping Network (HSN) featuring Herkimer Diamond jewelry.  Back in 2017, the mine's main building was destroyed by fire.  In the fall of 2019, a flood had an enormous impact on the local region and the mines.  These events gave rise to new opportunities and an expansion of everything visitors already loved about the place.  Altogether, the property spans over 250 acres and includes three above the ground surface mines that are easily accessed by visitors of all ages.
What's New, Different, and Still Loved at The Herkimer Diamond Mines in 2022
When to Visit
One facet of The Herkimer Diamond Mines that we've always treasured is the wide-open, albeit a little rocky, access to the above-ground surface mines. These spaces allow for social distancing and all-day enjoyment of the great outdoors. Plan your visit during the spring season and you'll be treated to a bounty of budding trees and green grasses blanketing the ledges on top of the mines and on the surrounding creek bed.  Summer is a great time to visit if you also want to experience other regional attractions.  In early fall, enjoy the splendor of the leaves as they change color.  The mines close for the winter season each year on October 31.  Keep in mind the mines are always subject to closure for unsafe weather conditions such as harsh rain, thunderstorms, and snow.
Admission
Beginning April 15, 2022, the Village Hall (Registration) and Prospecting Area (Mining) will be open daily from 9 a.m. to 5 p.m. Admission to the Mines is $15 per person (ages 13 and up), and $13 per person (ages 5 to 12). Children 4 years and under are free.  Discounts are available for military and emergency services workers with valid ID.
The Herkimer Diamond Mines welcomes groups every day during the regular season (April 15 to October 31).  Reservations are required to receive special group rates and can be made by calling their corporate office at (315) 717-0175.
What to Bring
As in years past, your admission includes an all-day prospecting wristband ticket, use of a two-to-three-pound sledgehammer to break the dolomite limestone in the mines, and plastic baggies to hold the Herkimer Diamonds you find.  Goggles are recommended and are available for purchase. It is also recommended that guests wear closed-toe shoes and dress according to the weather.  If you're visiting during the warmer months, be sure to bring sunscreen and a hat.  You're welcome to bring your own tools and equipment such as chisels, screens, small shovels, buckets, and other hammers (up to a 12-pound sledgehammer).
There is plenty of free parking in the open parking lot at the Herkimer Diamond Mines.
Mining Activities
Depending on your level of interest, we recommend setting aside between two and eight hours for your visit. Mining for Herkimer Diamonds is easy and can be enjoyed by family members of all ages. Beginners and young children will have the best luck at discovering loose quartz crystals by searching the ground, flipping rocks, and sifting through loose material. If it's sunny, you may notice surface crystals sparkle as you walk. Surface crystals usually ranging from the size of a poppy seed to a pencil eraser are also in abundance and more easily spotted after a rainstorm when the dirt is gently disturbed by the raindrops.
For more advanced miners, try your luck at finding Herkimer Diamonds within the porous dolomite limestone rock that fills the mines. Look for a rock covered with small dark holes. These holes are called "vugs," and are most likely to contain Herkimer Diamonds. Strike the rock with your hammer and be sure to check each piece that breaks off.  If you discover a Herkimer Diamond within a rock, it's best to leave it in place unless it wiggles like a loose tooth. Trying to forcibly remove it from the rock could fracture the crystal. Herkimer Diamonds are just as valuable when left attached to their host rock.
Remember, as long as you can carry it out of the mine, you can keep everything you find!
For the less adventurous, sluice mining is also an option. This is a simpler form of mining where you purchase a bag filled with treasures including Herkimer Diamonds, gemstones, and fossils, and then hand sift the material in running water to reveal your treasure.
Where to Eat
The list of available dining options has grown to include The Canteen Café and Miners' Table. The Canteen Café offers casual lunch fare, cold drinks, snacks, and even soft-serve ice cream. Outdoor seating is available under a wooden canopy. During the regular season, The Canteen Café is open seven days a week, Monday and Tuesday 11 a.m. to 7 p.m.- with dinner service beginning at 3 p.m. – and Wednesday to Sunday 9 a.m. to 5 p.m.
Miners' Table offers a number of culinary delights including gourmet wood-fired pizza, pasta, seafood, chicken, pork, and house-smoked ribs, as well as a full menu of local craft beers and ciders, and wines. During the regular season, Miners' Table is open for dinner Wednesday through Sunday from 4 p.m. to 9 p.m.
Shopping
During the regular season, visitors can shop for a variety of souvenirs, geological specimens, loose Herkimer Diamonds, Herkimer Diamond jewelry, and much more at the Trading Post retail store. The Trading Post is open daily from 9 a.m. to 5 p.m.
After finding your Herkimer Diamond, visit the Artisan Center to create beautiful custom jewelry. You can choose from a variety of jewelry-making accessories, and prices vary based on the options you select. During the regular season, the Artisan Center is open daily from 9:30 a.m. to 4:30 p.m.
The Herkimer Diamond Mines now has an online store where enthusiasts from all over the world can shop for unique gifts, natural and faceted Herkimer Diamonds, and exquisite jewelry pieces. We encourage you to visit their online store.
Learn
Visitors of all ages can learn more about geology at the Rock Hound Academy in Miners' Village.  With interactive exhibits featuring a wide range of specimens collected right at the Herkimer Diamond Mines, you will learn about how these beautiful quartz crystals were formed nearly half a billion years ago.  The Rock Hound Academy Learning Center is open daily from 9:00 a.m. to 5:00 p.m.
Where to Stay:  The Best Hotel Near the Herkimer Diamond Mines
Elevate your experience at The Herkimer Diamond Mines when you spend the night with us at Grand Colonial Bed and Breakfast. We're located at 112 W German Street in Herkimer, New York, just 8-minutes away from the mines.
If you're seeking a true one-of-a-kind getaway, there is no better way to experience the Herkimer Diamond Mines and the local Mohawk Valley region than with a comfortable night's rest and the best-in-town homemade breakfast, specially prepared for you each morning. Immerse yourself in the historic charm of our 1800s Colonial-style house featuring four en suite guest rooms with modern amenities, free Wi-Fi and parking, comfortable bedding, and a private bathroom.
Book directly at grand-colonial.com or by phone at (315) 982-5004.  Cancellation is free for all direct booking reservations.  Pay when you stay – no pre-payment is required.  A return guest discount is offered.  Children are welcome.  We're dog friendly.
To learn more about what we're doing to ensure the health and safety of our guests during the COVID-19 pandemic, please read our Stay Safe & Well Commitment.
We offer loose genuine Herkimer Diamonds and Herkimer Diamond jewelry for sale at GC Mercantile, our gift shop at Grand Colonial Bed and Breakfast.
Free Admission to the Herkimer Diamond Mines When You Stay
Grand Colonial Bed and Breakfast will reimburse one adult admission to the Herkimer Diamond Mines each time you book direct and stay with us during the promotional period. A receipt is required as proof of purchase.  This promotion is valid while actively published on our Deals Page.