The Sweetest and Shortest Season is Here – Our Pure NY Maple Syrup is On Sale!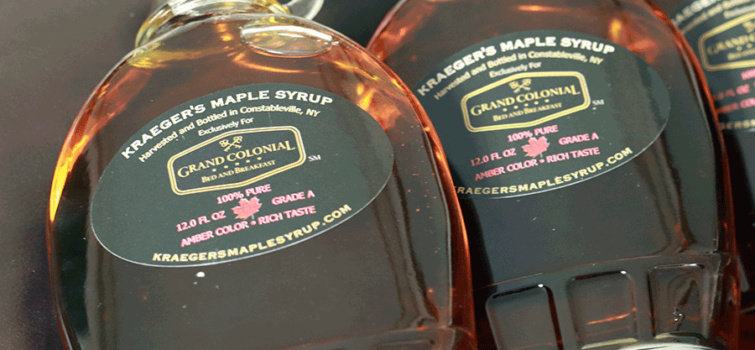 We take great pride in curating a unique and authentic experience for our guests. It all starts with the special relationships we have with other local businesses. Because the real stuff makes a difference, we proudly serve Kraeger's pure New York Maple Syrup with every breakfast.
Kraeger's Maple Syrup is locally harvested and bottled on the farm by the Kraeger family in Constableville, New York. We know that you'll love it so much, you'll want to take some home! We have 12-ounce bottles exclusively labeled for Grand Colonial Bed and Breakfast available for purchase at GC Mercantile, our gift shop.
Now from February 17, 2020, through April 1, 2020, you can catch our 12-ounce bottles of Kreager's pure New York Maple Syrup on sale!  Don't miss out, because this only happens once a year.  Buy one bottle for $9 (a $2 savings) or buy two bottles for $16 (a $6 savings).
If you're not staying as our hotel guest, please call us at 315-982-5004, or email us at [email protected]. We will set up a time for you to stop by to pick up some liquid gold before it's gone.