What Can You Find in the Herkimer Diamond Mines?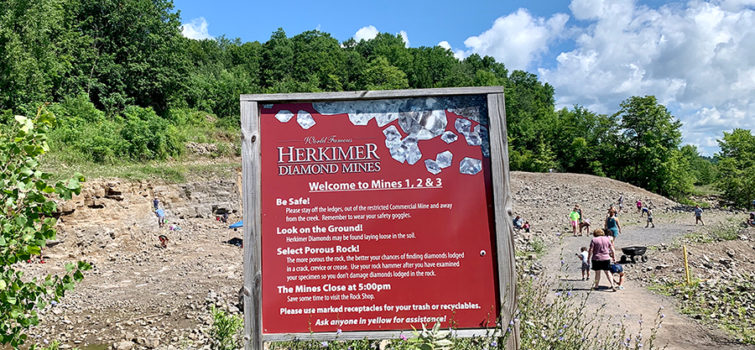 Prospect for your own Herkimer Diamonds at The Herkimer Diamond Mines and stay with us at our historic bed and breakfast located in the heart of Herkimer, New York. We're only an 8-minute drive from the mines. We offer clean, comfortable, and unique accommodations and a huge homemade breakfast daily. Check availability and book your stay at grand-colonial.com.
What Can You Find in the Herkimer Diamond Mines?
The surface mines at The Herkimer Diamond Mines contain calcite, stromatolite, and the world-famous Herkimer Diamond. The Herkimer Diamond is the clearest oldest quartz in the world and was formed nearly 500 million years ago. It's also exponentially harder (7.5 on the Mohs Hardness Scale) than other quartz material from around the world. Here's what you might find while mining:
Loose Herkimer Diamonds
Loose Herkimer Diamonds tend to be small in size and are relatively easy to find on the top layer of dirt on the ground. We recommend that you bring a small gardening-type shovel to aid in digging and sifting through the dirt. In our opinion, this is the easiest method and best tool for finding small loose Herkimer Diamonds. They are often plainly visible on the ground surface especially after it rains. If it's sunny, the crystals will likely sparkle in the sun and will be easy to see.
Matrix
A matrix is the natural dolomite limestone rock in which Herkimer Diamonds are embedded. Look for dark sparkly rocks a bit larger than two fists covered with small dark holes. These small holes are called vugs, and they might contain Herkimer Diamonds. When you purchase your mining wristband in the Village Hall registration building the staff will provide you with a two to three-pound sledgehammer. The sledgehammer is the best tool to use to break the dolomite limestone and expose Herkimer Diamonds. We recommend bringing or purchasing eye protection goggles if you plan to crack open rocks. If you expose a Herkimer Diamond and it doesn't wiggle like a loose tooth, consider leaving it inside its host rock.  It could be more valuable that way and you won't risk fracturing the crystal.
Drusy
Drusy is a coating of fine Herkimer Diamonds that never left the host dolomite limestone. Unlike lose Herkimer Diamonds, drusy has only one termination point, facing away from the host rock. Drusy is typically visible on the outside of the dolomite limestone and is easily spotted. It forms in colors from white to brownish-grey to black. The darker the drusy, the more valuable the piece.
Calcite
Calcite has a white or off-white cubic-like appearance and it can be found on the surface of many rocks in the mines. Calcite can be easily chipped off its host rock, but don't be fooled- it is not a Herkimer Diamond.
Stromatolite
Stromatolites are ancient fossils believed to be 900 million years old. They are a layered sheet-like rock that was originally formed by the growth of cyanobacteria. Although not Herkimer Diamonds, fossilized stromatolites provide a record of early life on earth and are a great find.
What Can You Do with Your Finds?  
As long as you can carry it out of the mines, everything you find is yours to keep. Herkimer Diamonds in all three natural forms can be displayed and admired as found. You can visit the appraising station at the Trading Post to learn the value of your Herkimer Diamonds. You can also visit the Artisan Center at Miners' Village to create a piece of jewelry using the Herkimer Diamonds you found.